Dundrum Castle is a Norman Castle in the town of Dundrum outside Newcastle on the Belfast road. The castle has seen plenty of action in its years. There had been a known failed siege and has had improvements and extensions through its different owners times. It's a stop off on some Game of Thrones tours now and is an excellent place to spend half a day and have a picnic.
Provenance
Castle Woods have been an important feature in the landscape above the village of Dundrum for hundreds of years. The woods, surrounding Dundrum Castle, are approximately 7.5 acres in size and were planted between 1820 and 1825 by the Marquis of Downshire, who followed the fashion of the early 19th-century demesne planting, with its emphasis on mixtures of native, naturalised trees and exotics.
Considered to be one of Ulster's most evocative medieval ruins, Dundrum Castle was founded by the legendary Norman adventurer John de Courcy following his invasion of Ulster in 1177. On the summit of a rocky hill, it provided a good vantage point for controlling commercial and military traffic along the east coast.
Architecture
De Courcy's intention for the original castle had many aspirations in terms of military defence. True, he may have had defences of both the surrounding terrain and timber, but it is probable that the stone curtain wall of the upper ward was built as early as the 1180s. As with another early enceinte (enclosure) walls, there were no towers, but the defence was evidently aided by covered walks with machicolations along the outside wall-head. An early timber hall may have been sited north of the castle's right side.
The castle was captured by King John in 1210 and remained Crown property until de Lacy was allowed to return to his Earldom in 1226. It was probably during de Lacy's second tenure as Earl of Ulster that the twin-towered gatehouse, similar to the one at Pembroke Castle, was inserted into the curtain wall. It has a lopsided design with only one projecting tower to protect the approach along a narrow ramp from the south-west.
SEE ALSO: Castles in Northern Ireland
The stone curtain wall of the outer bailey is likely to have been built by the Maginnis family, who seized Dundrum in the late fourteenth century and held it intermittently until finally expelled by Lord Mountjoy in 1601. It was made over to the infamous Lord Cromwell in 1605 and sold to Sir Francis Blundell in 1636.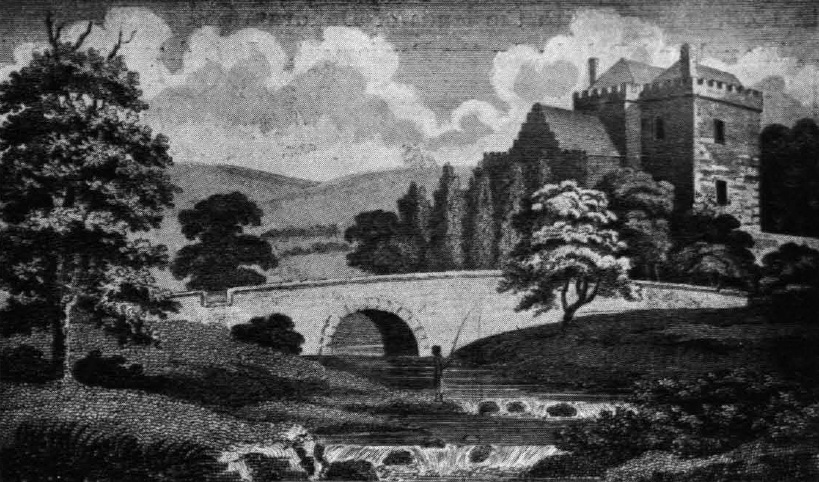 The Maginnis family retrieved Dundrum in 1642 but later lost it to the Parliamentarians, who dismantled the castle in 1652 after they withdrew their garrison. After 1660 the Blundells returned and built a gabled L-shaped mansion in the south-west corner of the outer bailey. This dwelling was ruined by the time the property passed to the second Marquess of Downshire in the early nineteenth century, though the trees on the hill were probably planted at this time. The castle and grounds were placed in State Care by the seventh Marquess in 1954.
Nowadays, under the management of the National Trust, the public has enjoyed access to the woods for recreation, with steps, stiles, paths and signage to enhance the visitor experience. The trail links into existing Down District Council Footpaths around Dundrum.
The grounds open all year, daily. The castle is open from March to October 10 AM to 4 PM, and from noon to 4 PM from October to March. Admission is free.
Summary
Title
29:12 NEVER IN A MILLION YEARS DID WE THINK THIS WOULD HAPPEN TO US.. The Ingham Family Recommended for you 99% New 3:58 Ed Sheeran - What Do I Know? [Official Audio] Ed Sheeran Recommended for you 97% 21:40 WHAT WiLL THEY SPEND £100 ON?! ???? Family Fizz Recommended for you 96% 3:58 19 Creepy Pictures From The Titanic Before it Sank 4Real! Recommended for you 50% 15:37 35 UNBELIEVABLE COOKING HACKS 5-Minute Crafts Recommended for you 81% Relaxing Jazz & Bossa Nova Music Radio - 24/7 Chill Out Piano & Guitar Music Live Stream Cafe Music BGM channel 6.9K watching 96% LIVE NOW 7:48 Top 10 Irish Tourist Destinations MsMojo Recommended for you 94% 5:52 Is This The World's Youngest Vlogger? (YOUTUBE EXCLUSIVE) | Little Big Shots Little Big Shots UK Recommended for you 99% 2:36 Llandudno And The Great Orme // Aerial Adventure // Episode 4 // North Wales // Drone 4K Joshua Paul Gardner 1.6K views 100% 11:17 ORDERED EVERYTHiNG ON MENU AT TACO BELL!! ???????????????? Family Fizz Recommended for you 97% 0:35 I Thunderman| La sigla | Nickelodeon Nickelodeon Italia 882K views 92% 6:29 Minecraft Dover Castle Build Timelapse | Yogscast Let's Build English Heritage 48K views 97% 1:40 KNOCKDRIN CASTLE, MULLINGAR, COUNTY WESTMEATH, IRELAND Ireland Sotheby's International Realty 19K views 97% 2:29 Luxembourg Spring & Summer 4K - Filmed with DJI Phantom 3 Professional drone (2016) Drone Club 27K views 98% 27:32 OUR 1 MILLION CELEBRATION ANNOUNCEMENT POOL PARTY!! The Ingham Family Recommended for you 99% New 8:09 Birr Castle Co Offaly Ireland, History Quinco TV 2.7K views 86% 5:38 10 Best Tourist Attractions in Cornwall, England Heaven of UK Recommended for you 91% 3:32 Castle Tour, Wales UK - 2015 HoleInTheHead 23 views 100% 4:46 Trim Castle Ireland 800years ago SkyLens Ireland 6.7K views 73% Dundrum Castle - County Down - Norman Castle in Northern Ireland - Castles in Northern Ireland
Description
There is a long history behind Dundrum Castle and those who were controlling it. After John de Courcy, Hugh de Lacy strengthened the castle with a massive round keep - which stood at least three storeys high - which later on became very popular. Later in 1210, the castle was captured by King John who in 1260 added a gatehouse that is composed of two square towers on the south east side of the enclosure.