Ever fancied spending the night in a castle, or maybe even a lighthouse? What about the state-of-the-art super modern houses? The Emerald Isle is a beloved & enchanting country with breathtaking scenery, filled with history and legends, and the locals are friendly too.
Furthermore, as tourism numbers grow, more & more smaller Irish businesses are taking punts on unusual accommodation that stands out from the crowd. Take a look at this list of the most luxurious & unique places to stay in Ireland.
Places to Stay in Ireland – Castles
Adare Manor Hotel, County Limerick
Adare Manor Hotel is a stately manor house on hundreds of acres, a raging river, and a picture-perfect adjacent village. While retaining an old-school, aristocratic vibe, Adare's fanciful corridors, genuinely warm staff, grand and intimate spaces, and super-comfortable rooms make it somewhere uniquely and unabashedly the Ireland of now.
The five-star Adare has been named Hotel of the Year 2018 at the Virtuoso 'Best of the Best Awards' in Las Vegas. Beating four other properties from countries like France for the title.
Blessingbourne Estate, Fivemiletown
Blessingbourne Estate is a historic 550-acre country estate in Fivemiletown, in the heart of the picturesque Clogher Valley. This private estate offers walking and mountain bike trails alongside its working farm, all within a welcoming atmosphere.
Relax in the cosy Gate Lodge Cottage or the beautiful courtyard apartments with home from home comforts. Offering the perfect location for exploring Northern Ireland.
The estate offers the perfect retreat with Northern Irelands first premier 13km mountain bike trails. Also, 4 km of stunning walking trails, boating or fishing on the private lake & carriage museum. Along with a fabulous range of animals from goats & horses to the famous Blessingbourne peacocks.
Furthermore, Blessingbourne Estate makes for a great place to stay in Ireland especially for those keen on exploring.
Dromoland Castle Hotel & Country Estate, County Clare
One of Ireland's most magical addresses, Dromoland Castle has been welcoming guests since the 16th century. The castle is The ancestral home of the O'Briens of Dromoland, whose lineage dates back 1,000 years to Brian Boru, one of the last High Kings of Ireland, which proves that the Irish have got nobility and hospitality in their DNA.
Of the 98 rooms in this castle hotel, you are bound to find one to your liking. If you have a chance to stay in the Earl of Thomond Suite, you'll be waltzing around your two-story room like Cinderella. If you can bear to leave the culture & class of the castle, explore the stunning, surrounding countryside. Immersing yourself in all the charm and colour of Ireland.
Moreso lively festivals, rugged beaches, picture-perfect villages, & cosy pubs make for adventure at every turn.
Castle Leslie, County Monaghan
Next on our list of the best places to stay in Ireland is the romantic & secluded luxury Castle Leslie. Located in County Monaghan, the place has played host to some of the world's most renowned celebrities from Paul McCartney to Marianne Faithfull.
Its magnificent exterior boasts picturesque views of the spectacular Irish countryside. With its glistening lakes & ancient woodlands. Serving as a splendid backdrop to the castle's refined Scottish baronial style architecture. While its elegant interior is ornamentally refined to such exquisite detail.
The Castle, rich in unspoilt rural splendour & breath-taking artefacts, offers complete respite from the rest of the world. A haven of tranquillity, you won't find televisions, radios or minibars within the bedrooms. The Castle features twenty unique bedrooms. Whether your idea of heaven is a romantic boudoir design with relaxation and privacy in mind or a flamboyant room decorated with rich deep colours, there's room to suit your tastes.
Additionally, there are so many outdoor activities available on the Castle Leslie estate. It's home to one of Europe's finest equestrian centres. Home to one of Ireland's best-preserved lakes for fishing. You can even trying kayaking, clay pigeon shooting or a hot air balloon ride.
This castle hotel will definitely make for a great place to stay in Ireland as it has so much to offer those visiting.
Places to Stay in Ireland – Lighthouses
Clare Island Lighthouse
At the mouth of Clew Bay stands Clare Island, an island full of history. Made famous by the Gaelic pirate queen Grainne Mhaol. For almost two centuries, the island's Lighthouse has been a nautical landmark perched high on the craggy cliffs, watching over Achill, Westport and beyond.
This landmark has recently been transformed into something more than a beacon for sailors, becoming a residency for those seeking the luxuries of Clare Island.
The Lighthouse was built in 1806 by the Marquis of Sligo. After a big fire decimated it and being decommissioned, The Lighthouse was opened after complete and modern restoration as a Historic House in May 2013.
They offer accommodation for 12 people in 6 separate individually designed, en-suite rooms. Some in the main building and some in outbuildings. Visitors to the Lighthouse can escape the world of hustle and bustle & lose themselves in one of the most spectacular landscapes and most unhurried environments Western Europe has to offer.
This is one of those places to stay in Ireland that you will forever be remembering for years to come.
St. John's Point Lighthouse, County Down
St. John's Point Lighthouse is a newly open Irish Landmark Trust property where guests can be keepers for the night. The lighthouse property is surrounded by stone walls, one high enough to have likely protected crops, while the other was probably to pen livestock.
The only view from the lighthouse keepers courtyard is that of the towering lighthouse itself. It isn't until you stand on one of the lookout points, or even go beyond the first wall surrounding the property that you truly see the astonishingly rugged coastline that optimises the namesake 'Wild Atlantic Way'.
This place truly offers a unique experience while in Ireland, with stunning views that will leave you wanting to come back again.
Places to Stay in Ireland – Cottages and Camps
Bubble Domes at Finn Lough
They're pretty much exactly that – a cosy little bubble to call home for a night or two. The spherical, transparent structure of the main living space means that you get a view of nature all around you. Allowing you to totally immerse yourselves in the tranquil & relaxing atmosphere.
You wouldn't even have to set an alarm in the morning. Let the sunrise slowly wake you up, just the way nature intended. And just imagine how cosy it must be to snuggle up inside if the weather's a bit miserable outside!
Cosying up with a good book in one of the plush chairs, warming up with a freshly made coffee and enjoying the sound of the rain all around. Sure sounds lush if you ask us! Thing is one of those magical places to stay in Ireland and we highly recommend doing it at least one.
Cottages for Couples – Treehouse One at Grove House
Cottages for Couples offer seven luxury cottages and three luxury treehouses for short breaks in three locations around Skibbereen. Made entirely from sustainable materials, Treehouse One at Grove House sits in a secluded wooded area in West Cork. The raised wooden dwelling comes with its own private two-person Canadian hot tub on an outdoor deck surrounded by tree trunks and branches.
They have also added some modern day luxuries to create a perfect place to relax with one another. Bedroom jacuzzis, king-size beds, smart TVs, Bluetooth sound systems, wi-fi and even a private hot-tub. So you can indulge yourselves in your own personal and private space.
Chez Shea Gypsy Wagon, County Kerry
Waking up every morning surrounded by colourful pillows, little straw owls, the sound of ponies neighing outside and a Disney-esque view of the forest and green rolling hills of Kerry sounds positively dreamy, right?
Now picture all that plus the cutest little wooden gypsy wagon you've ever laid your eyes on. Turned into your home-away-from-home stay in Ireland. There's space enough for two people, so this is great if you just want a little bit of time together with your better half. Enjoy spending lazy summer afternoons and snuggling up in the evening.
The wagon features a comfy double bed and facilities for making tea or coffee. And the table and chairs outside mean that you can bring a book and chill outside during the day.
Ring Fort Sleepover at the National Heritage Park
The Irish National Heritage offers a unique opportunity to experience life in Early Medieval Ireland. You can have the chance to stay in a perfect replica of a 1,500-year-old Irish ringfort. Living as Irish ancestors did for a night or two.
It sleeps 6-8 people, all in a building with thatched roof and stone walls within the fort. As well as an open fire to cook (don't worry, there's a fridge), and you'll be given costumes from the period. The Park is open all year round.
If heritage & history is what you're searching for then this is a place to stay in Ireland.
Pod Umna Glamping Village, Galway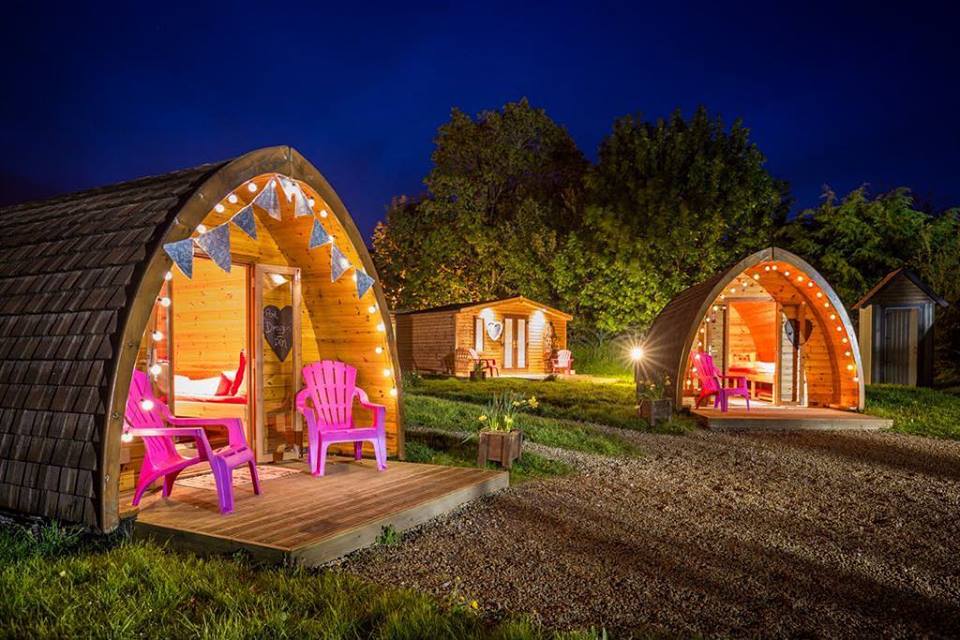 Whether you're an experienced 'glamper' or 'podder' or you're brand new to it, you should also know about one of Ireland's best-kept secrets. The town of Portumna in South East Galway, with its castle, abbey, historic workhouse and forest park. Also the River Shannon and Lough Derg, and a great range of shops, pubs and restaurants.
Put them together and you arrive at Pod Umna, a unique Pod village, which is one of the most innovative and creative glamping sites in the country.
At Pod Umna, guests have the option of staying in Eco Pods, wooden cabins that can sleep up to five. Each is fully insulated and comes with mattresses, power and heating, and its own deck area with table and chairs.
The bell tents are canvas, cone-shaped tents supported by a central pole. There are three different ones – Asia, Arabia and Vintage. They are raised off the ground and fixed to decking. Each bell tent sleeps a family or group of friends up to six.
This is one of the cool ways to spend your time in Ireland with this incredible unique accommodation.
Top of the Rock Pod Páirc and Walking Centre
Located near Drimoleague, the perfect centre for touring West Cork, Top of the Rock, this award-winning glamping site offers clean modern campervan facilities, glamping pods and camping spaces. Communal areas are bright, well equipped and spacious.
The Centre looks out over some of the loveliest inland scenery of West Cork. From here guests can reach Clonakilty, the Mizen Head, the Beara Peninsula and Cork city, within one hour. Sandy beaches are found within 30 minutes & the stately Bantry House is just 15 minutes away.
Yurts at Chléire Haven, County Cork
Ideal for families and couples, the Chleire Haven glamping site is set on a tranquil island with uninterrupted views out across the Atlantic Ocean.
Chleire Haven is perched on the edge of South Harbour on the beautiful remote Island of Cape Clear with some spectacular views of the Atlantic coastline. Relax in fully equipped Mongolian Yurts dwelling, bells tents or bring your own tent.
Chleire Haven offers accommodation for a family of up to six, with beds and bedding provided for four, cooking facilities inside the Yurt, log burning stove, wooden floors and rugs.
CroPod
Did you watch Lord of the Rings and find yourself envying the lives of the hobbits? Well, now you have the chance to live out your fantasies in Donegal! The CroPod is the perfect hobbit-hole, complete with grass roof frequently trampled over by sheep.
The CroPod is one of the properties of Under the Thatch (UTT), which rents out "fabulous, quirky" holiday homes across Europe, calls the property "a luxury escape for architects, designers, writers and those who love nature."
The CroPod is an underground shelter inspired by the ancient archaeology of Ireland and overlooking a beautiful mountain lake.
Places to Stay in Ireland – Popular Hotels
Europa Hotel in Belfast
Superbly located in the heart of Belfast City Centre, the world-famous four-star Europa Hotel simply epitomises indulgence. The elegant décor, contemporary bistro, bustling bar and relaxing piano bar lounge make it the hotel of choice for business and leisure guests visiting Belfast.
Due to its prime location, the Europa Hotel is a short distance from many of Belfast's top visitor attractions. These include the Grand Opera House, Belfast City Hall, Ulster Museum, Titanic Belfast, Belfast Waterfront Hall and the SSE Arena Belfast.
It's nothing short of a miracle that the Europa Hotel in Belfast is still standing. Between 1970 and 1994, it was damaged by explosions 33 times, gaining it the dubious title of "the most bombed hotel in the world".
Although it has come along way since then & it's one of the most flourishing and attractive places to stay in Ireland.
Inis Meáin Restaurant & Suites, County Galway
Inis Meáin, the middle and most isolated of the Aran Islands, is home to 160 people – fishermen, poets and creative loners. Visitors here will be rewarded with peace and wide-open panoramic views.
Inis Meáin Restaurant & Suites itself offers a remarkable, carefully designed experience on the remote, enchanting and windswept island. Created by Marie-Thérèse and Ruairí de Blacam, every detail is inspired by the stunning beauty of their environment. Where the combination of clean earth, water and air provide optimum conditions for the purest produce.
Harvey's Point Hotel, Donegal
Harvey's Point Hotel, Donegal has been named No.1 one Hotel in Ireland by TripAdvisor for five years in a row. This place is much more than a hotel, it's the perfect gateway to adventure and activity breaks in Ireland.
Whether you want to linger in the luxury suites, take a meandering walk along the many guided routes beside the hotel, experience a beauty treatment or just simply chill out and be pampered with fine dining and classical music in the mystical surroundings of the Blue Stack Mountains on the shores of Lough Eske.
Cliff House Hotel, County Waterford
It's a scenic drive to Ardmore from Waterford. The road twists and turns its way around the coastline, giving glimpses of the destination ahead. As the name suggests, the Cliff House Hotel is perched on a cliffside & looks out over Ardmore Bay.
The site has been home to a hotel since the early 1900s, but three years ago a modern boutique hotel opened and it's something of an architectural feat. The hotel links two buildings that drop seven levels to the sea, ensuring that all of its 39 rooms have views of the bay.
You'll be struck by the architecture of a building that blends in with its rocky surroundings, despite a white exterior. You'll marvel at the staircases that flow down the cliffside like running water. Prepare yourself for the beauty that surely exists inside. The invigorating palette inspires you to participate in the area's activities, including whale watching and cliff walks.
Every aspect of The Cliff House Hotel, including a rock pool in the spa and the seafood offerings in the dining room, contributes to a seamless integration of the hotel experience and the rugged Irish coastline. This place makes for an ideal stop during your exploration of the Emerald Isle.
Fota Island Resort, County Cork
Is there anything more tempting when finishing a long week than heading straight to a five-star hotel and treating yourself to a delightful spa then sinking into a restful sleep in a luxurious bed? Then Fota Island Resort is your destination – a great place to stay in Ireland.
As one of the luxury hotels in Cork, Fota Island Resort boasts superb views of the surrounding woodlands & Fota Island Champion Golf Course.
The hotel also boasts two excellent restaurants showcasing the very best in Irish and international cuisine using locally produced organic ingredients. Even if there wasn't a safari park next door, Fota Island would be a great place for a family break. The fact that there is, complete with lions, tigers and giraffes, is just a bonus.
The Merchant Hotel in Belfast
The five Red Star Merchant Hotel is a harmonious blend of Victorian grandeur and Art Deco inspired sleek modernity. The Merchant Hotel was awarded Hotel Accommodation of the Year at the Northern Ireland Tourism Awards 2012. It also achieved the award of Best UK Hotel in the prestigious International Hotel Awards.
The Merchant has an elegant Art Deco-inspired wing, a fabulous jazz bar and a rooftop gymnasium with panoramic views. Guest rooms and suites are furnished in art deco and Victorian themes, and The Great Room Restaurant, which has two AA rosettes, has original Victorian architecture, a stunning glass cupola and Ireland's largest chandelier.
If you looking for an unforgettable, luxurious experience then The Merchant makes for a great place to stay in Ireland.
Aghadoe Heights, County Kerry
For a family break Killarney can't be beaten – just ask any of the gazillion families that visit it from overseas each year. And with the heritage farm at Muckross, boat trips on the lake and the amusements in the centre of town each summer, it's not hard to see why.
One of the distinguishing features of Aghadoe Heights Hotel & Spa is the unsurpassed level of personal service. The hotel reflects both the great cultural & contemporary history of Ireland and the owners' calming modern vision.
The homely feel is enhanced by an intimate lobby with friendly staff to greet you on arrival and the crackle of a real fire.
Garryvoe Hotel, County Cork
Garryvoe in East Cork is to masses of Corkonians what Skerries are to Dubliners, and maybe what Long Island was to New Yorkers – where the childhood holidays were spent.
Long innocent days on the beach, simple unsophisticated fun in rented summer houses or caravans, sand in the banana sandwiches and romps through the rough grass with Fido, beach balls, rounders and windbreakers. Fond memories.
The hotel has evolved through generations since its erection in the early 1900s, most recently adding a new library, bar and Samphire restaurant under the watchful eye of GM Stephen Belton.
The four-star somehow manages to fit families, weddings and locals in without disrupting each other, and it's fun zipping from the 21st century to the past.
Kelly's Resort Hotel & Spa, County Wexford
Family-run for five generations, the Rosslare classic offers every aspect of a perfect holiday — warm staff, a beachside setting, good food, children's activities, comfortable bedrooms, evening entertainment, excellent wine, novel activity breaks and a good spa and pools.
Guests love the relaxed vibes and warm Irish welcome, especially favourable for multi-generational family stays.
Places to Stay in Ireland – Country Houses
Rathmullan House, County Donegal
Country houses usually stand in splendid isolation; luxury rural retreats that offer sanctuary from the outside world, so much so that the county you are in can become irrelevant.
Situated on the shores of Lough Swilly, a short walk through the rolling lawn, leads you to a two-mile stretch of golden sandy beach. The interior of Rathmullan House is relaxing and welcoming with open fires burning in the homely lounges.
Furthermore, bedrooms range from romantic doubles with garden views to the large garret rooms for families. A heated indoor swimming pool provided the perfect opportunity to unwind after a day of sightseeing.
The Wild Honey Inn, County Clare
The Wild Honey is a gastropub in Lisdoonvarna, County Clare, formerly the middle of nowhere to most people but fast becoming one of the best places to eat in Ireland.
This place is all about proving that you can serve exquisite cooking without charging a fortune, that "foraging" doesn't have to be a kind of hipster obsession, that local produce is, indeed, often the best and that it has a taste of place.
The Wild Honey Inn does all that and adds in a very generous measure of good, old-fashioned Irish hospitality. They enjoy making people feel good by being an exceptional pup that serves a sublime dining experience.
Hope you enjoyed this list of all the great places to stay in Ireland, have you got your own favourite place to stay in Ireland? Share with us below 🙂
Check out some other blogs that might interest you:
Live Music in Belfast: A Local's Guide to Entertainment| Best Tourist Attractions in Northern Ireland| Art Galleries in Belfast: A Local's Guide to Must-See Attractions|