Known as an Irish chieftain and legend of the sea, Grace O'Malley is remembered as one of the greatest and most important figures of her era. A ferocious pirate and sea conquerer who stopped at nothing to build an empire for herself and her family. Stronger than any other Irish woman at the time, she definitely left her mark on Irish history.
Grace O'Malley is perhaps the most famous female pirate known to date and one who has achieved a lot in her time.
In her time during the turbulent 16th century, Grace O'Malley designated herself as a protector of the lands of Ireland from east to west.  She did so using her succinct strategies and tactics as a ruthless politician and a notorious commander of her naval fleet.
She vowed to protect the people of Ireland from the venomous touches of the English crown and military with the threats they imposed, and she is heavily remembered with her exploits in the sea and land decades after her death.
Several myths are based and related to her life, making her one of the most prominent figures in Irish folklore.
Early Life of Grace O'Malley
To understand her characters from all aspects, one must garner some knowledge of the period and the communities she lived in, and how she reached the high status she's known for and what are the forces that gathered against her.
Grace O'Malley was born in 1530. Grace's father, Owen (Dubhdara) O`Malley founded the Abbey on Clare Island. She was taught by the Cistercian (a Catholic religious order) monks and was well versed in English and Latin.
The O'Malleys were very well-known in the seafaring community at the time as being one of the most substantial clans of Irish people. They were also known for their immense fortune because of their indulgence in trade and naval warfare, and they secured themselves adequately to protect this fortune and wealth.
Political and Social Life
To perfectly understand the period in which Grace O'Malley grew up in, it's important to take a look back at Ireland in the 16th century. At that time, Ireland had two very different cultures within its boundaries.
On one side, you have Dublin, the capital, and the neighbouring counties and coastal cities were under the fearsome rule of the English.
On the other side, or what's remaining of the country, there was a strong heritage of Gaelic language and traditions and the native Irish people lived there. And since these people ruled themselves, they had the luxury of settling peacefully and enjoying conventional pastimes.
However, clans had to establish a partnership between them in order for the weaker families to sustain themselves from the formidable ones, and bonds were cemented by means of tribute, military aid, marriage and fosterage. They were controlled by uptight laws that gathered these families together formally, and this made them live in a hierarchical society in which pride and status were of high importance.
Grace O'Malley was born as royalty and was a fairly competent leader of her land but she had an undying fascination with the sea and warfare. Although her family wanted her to remain on land and receive high education and become a lady, Grace insisted on going to the sea. Legend has it that she wanted to join her father on a voyage at a young age, but her parents refused to let her go.
Defiant even as a child, young Grace wouldn't take no for an answer, so she chopped off her hair and disguised herself as a boy to sneak on the ship. They gave her the nickname Grainne Mhaol (which remains attributed to her even today).
According to other tales, it's said that she accompanied her father on his journeys since a very young age and managed to save his life during many attacks.
Marriage of Grace O'Malley
At the benevolent age of 16, Grace married her first husband, Donal O`Flaherty from the allied clan of Iar Connaught. Donal's clan motto was Fortuna Favet Fortibus (Fortune favours the bold). Together they had three children, Margaret, Murrough-ne-mor and Owen.
The marriage was an unequivocally political and financial one for the purposes of enlarging the lands of the O'Malleys and strengthen their naval fleet and take advantages of the ports that O'Flaherty's clan controlled. Donal died in 1560 and left Grace a poor widow. It was from his death that she progressed on her career of piracy.
In the 11 years stemming from her husband's death, she made all sorts of waves after taking command of O'Flaherty's fleet. Sailing around the Mediterranean and trading goods between recurrences of pirating activities. The Irish coast was a good spot for raids and Grace took advantage of unprotected passing ships, levying tolls on them and grabbing whatever loot she could.
Born Again Settlement
Grace married again to a nobleman named Sir Richard Burke by Brehan Law, which indicated one phrase: for one year certain. The law gave her the right to invoke an ancient appeal implemented within the law that stated that a wife could divorce her husband after one year and retain his property – which, in this case, was a castle.
Grace bore one son for Burke named Tiobóid, who would eventually reach the title of 1st Viscount Mayo in 1626 by Charles I of England. Therefore, she became a mother to four children.
Following this marriage, Grace operated from two military strongholds. The first is Carraig an Chabhlaigh castle, on Clew Bay. The second is the extant castle located on the harbour at County Mayo called Rockfleet, which was strategically located to levy taxes on foreign sea vessels.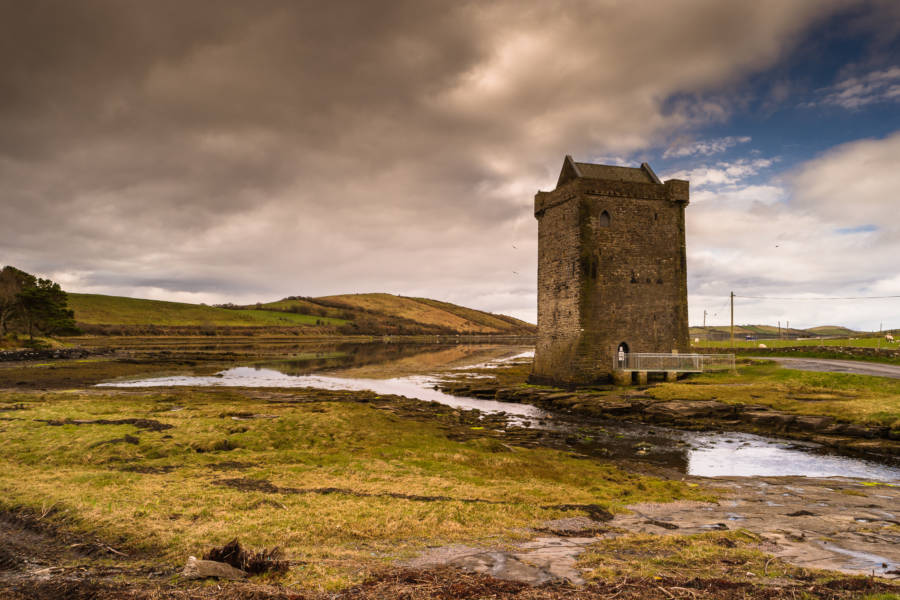 Rise of the Legend of Grace O'Malley
Under Gaelic law, and after Grace assumed the mantle of chieftainship of the O'Flahertys, she returned to Umhall and settled on Clare Island. She was never forced to do so but she felt she and her family would have more opportunities on Clare Island.
Several folktales emerged just from her exploits at sea from ─ ranging from Donegal to Waterford ─ that are still told in modern day Ireland.
One tale pertains to a refusal of hospitality by the Earl of Howth. In 1576 O'Malley sailed to Howth Castle to visit Lord Howth, only to find that the Lord was away and the gates of the castle are closed to her or any other visitor. Feeling insulted, Grace is said to have kidnapped his heir and demanded, as ransom, the promise of the setting of an extra place at each meal at Howth Castle.
He was eventually released under the promise that Howth Castle doors will always remain open to unexpected visitors, with a place for them ready at the table. Lord Howth promised to uphold this agreement that is honoured even to this day by his descendants.
Her fleet size was of appropriate measures to go on crusades and conquer different parts of the sea. Although little is known about the composition, estimates vary of how many ships she had from 5 to 20 vessels in one crusade. They were known for being fast and steady.
Imposing Taxes
In case you aren't aware, the implementation of taxes goes way back. A basic and opportunistic form of piracy was situated heavily in Ireland, comprising short-distance raids along the coast or to the islands, levying tolls on passing shipping and plundering any vessel foolish enough to be unprotected.
Grace often halted pirates and ship commanders and traders to extract a "fee of safe passage". Those who wouldn't agree to hand out this fee would have their ships looted and plundered. All of this made her extensively rich that she managed to own five different castles around her homeland.
As time passed, the legend of the pirate queen/the sea queen of Connacht was born. As her influence rose as an international trader, owner of large land in Ireland and a pirate who harassed English holdings and trade, Grace O'Malley became involved in several political struggles with surrounding nations.
The Heralds of War
At the age of 53, Grace O'Malley was a very wealthy and independent woman. Her troubles, however, were only beginning.
By 1593 Grace O'Malley was in conflict not only with England but also with the Kingdom of Ireland, who she believed was trying to limit her influence over the large land she owned. She was even attacked several times by her fellow Irishmen from other clans, but all those attacks were swatted away on the walls of her strong castles.
The war with the English intensified, and during that same year, English governor of Connacht, Sir Richard Bingham, managed to capture her two sons Tibbot Burke and Murrough O'Flaherty and her half-brother Dónal na Píopa. In a historical moment, Grace headed to London to meet with Queen Elizabeth I. The meeting was attended by some associates of the Queen. Being educated, Grace conversed with the Queen in Latin but refused to bow because she felt that she was not a rightful ruler of Ireland.
After the long talk had been finished, the Queen and O'Malley came to the agreement in which English would remove Sir Richard Bingham from Ireland, while O'Malley would stop supporting Irish lords who fought for the independence of their lands. Moreover, they agreed to become allies in the war with the Spanish, in return for her sons' release.
Upon returning to Ireland, Grace O'Malley saw not all demands met (Bingham was gone, but the castles and lands he took from O'Malley family remained still in English hands), so he continued backing Irish independence during entirety of the bloody Nine Years' War (sometimes called Tyrone's Rebellion) between 1594 to 1603, the largest open conflict against the English rule in Ireland during Elizabethan era.
Death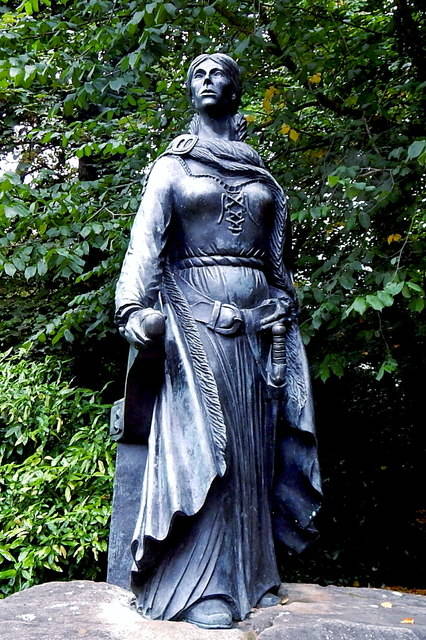 A veil of ambiguity conceals Grace's death. The last manuscript recording her piracy was in 1601 when an English warship confronted one of her galleys between Teelin and Killibegs. Having spent her life exploiting the sea, Grace had more than enough to engrave her name in the books of history, and died in 1603 at the age of 73, the same year as the Queen of England, Elizabeth I passed away. She was buried in the Cistercian Abbey on Clare Island, instantly becoming an Irish folk hero.
During the entire 70 years of her life, Grace O'Malley managed to retain the reputation of fierce leader and smart politician and persevered vehemently to protect the independence of her lands that she sought during the time when much of Ireland fell under the English rule.
Grace O`Malley was a tyrant of the ocean, clan chieftain, mother, wife, survivor and brilliant politician. Her deeds are now obscured by time, but the legacy of her mastery survives in the ruined monuments and the folk-consciousness on Clare Island and beyond. To this day, she is used as a personification of Ireland and an inspiration for many modern songs, theatre productions, books, and a name for a wide variety of sea vessels and public objects and places.