Discover The Most Unique Places to Stay in Ireland
Updated On: November 08, 2023
Ever fancied spending the night in a castle, or maybe even a lighthouse? What about the state-of-the-art super modern houses? The Emerald Isle is a beloved & enchanting country with breathtaking scenery, filled with history, and legends and the locals are friendly too.
As tourism continues to grow in Ireland, many small businesses are taking the opportunity to find unique accommodation to stand out against the crowd.
Places to Stay in Ireland – Castles
Adare Manor Hotel, County Limerick
Adare Manor Hotel has been recognised as one of the world's best hotels by renowned travel magazine Conde Nast Traveler.
The travel magazine perfectly describes Adare Manor as; "a stately manor house on hundreds of acres, a raging river, and a picture-perfect adjacent village."
The hotel offers a cool old-school vibe and imaginative corridors with both grand and intimate spaces. The staff on hand offer a warm welcome as soon as you step through the doors. The rooms are super cosy and inviting offering a glimpse into modern Ireland.
The five-star Adare has been named Hotel of the Year 2018 at the Virtuoso 'Best of the Best Awards' in Las Vegas. Beating four other properties from countries like France for the title.
Blessingbourne Estate, Fivemiletown
Take yourself to another world at the historic 550-acre Blessingbourne Estate, located in the scenic Clogher Valley.
The private estate is the perfect spot for those wishing to enjoy walking and mountain bike trails along with its working farm. It offers you a friendly countryside atmosphere to escape from your normal life.
The five-star accommodation spot is one of Northern Ireland's most unique destinations. The place is filled with character and offers a variety of charming awarding winning self-catering apartments.
Guests can enjoy many things to do and experience at the lovely countryside retreat. Activities on site include one of Northern Ireland's first premier 13k mountain bike trails with onsite bike hire. You can spend time visiting the variety of animals at the farm including horses and ponies. Or why not enjoy some fishing on the private lakes located there.
There's also a fascinating history to discover at the estate, especially at its costume and carriage museum. Blessingbourne Estate makes for a great place to stay in Ireland, especially for those keen on exploring.
Dromoland Castle Hotel & Country Estate, County Clare
Since the 16th century, people have been making their way to marvellous Dromoland Castle in County Clare. The castle is the ancestral home of the O'Briens of Dromoland, whose lineage dates back 1,000 years to Brian Boru, one of the last High Kings of Ireland.
There are 98 amazing rooms in the castle hotel, everyone is sure to find one that's perfect for them. One of the most incredible rooms is the Earl of Thomond Suite, something out of a fairytale story.
The castle hotel offers a modern cosmopolitan style combined with the countryside beauty. The food on offer is out of this world with delicious gourmet Irish meals and not forgetting the relaxing on-sight spa facilities.
Close to Dromoland Castle Hotel, you'll find gorgeous beaches, colourful villages & inviting pubs that make for an unforgettable trip.
If you can this is one of those places you must visit at least once in Ireland.
Castle Leslie, County Monaghan
Next on the list of the best places to stay in Ireland is the romantic & secluded luxury Castle Leslie. Located in County Monaghan, the place has played host to some of the world's most renowned celebrities from Paul McCartney to Marianne Faithfull.
Its beautiful exterior is met with the gorgeous Irish countryside, like many of the places on this list. The stunning lakes and enchanting woodlands make for the most captivating atmosphere.
Every corner you turn the place oozes perfection, a great spot for a wedding or just to get away from the world. Guests can take full advantage of the castle's Victorian spa and equestrian playground.
If you really wish to escape from reality, you won't find a television or radio in any room. A true haven of peacefulness taking you away from the modern world. With twenty distinctive rooms on offer from romantic boudoir rooms to extravagantly decorated rooms, there's something to suit all tastes.
Additionally, there's a wealth of outdoor activities to enjoy on the Castle Leslie Estate. It's home to one of Europe's finest equestrian centres. Home to one of Ireland's best-preserved lakes for fishing. Try out some fun activities such as kayaking, hot air balloon rides and even clay pigeon shooting.
This castle hotel will definitely make for a great place to stay in Ireland as it has so much to offer those visiting.
Places to Stay in Ireland – Lighthouses
Clare Island Lighthouse
Located on Ireland's west coast you'll discover Clare Island, a place filled with a fascinating history. The lighthouse on the island has been a treasured landmark sitting atop the high cliffs for over two centuries.
Most recently the landmark has been transformed into more than just a lighthouse but a luxurious place to stay on Clare Island. Nothing says unique like staying in a historic lighthouse with beauty everywhere you turn.
In 1806 the Lighthouse was built by the Marquis of Sligo. However, a huge fire broke out that led to the restoration of the Lighthouse in May 2013.
The new renovation was created with guests in mind. The lighthouse can accommodate up to 12 people in 6 individually designed, ensuite rooms.
The vision of the lighthouse was to be a 'great escape' for those visiting, to take you away to a place of tranquillity. That's exactly what this place does, it's comfortable and somewhere to unclutter the mind.
This is one of those places to stay in Ireland that you will forever be remembering for years to come.
St. John's Point Lighthouse, County Down
St. John's Point Lighthouse, an Irish Landmark Trust property offers you a once-in-a-lifetime experience. The lighthouse is striking even before you step foot inside, with its distinctive black and yellow striped tower.
At the tower, you can experience life just like a lightkeeper in the remote spot offering the best of County Down.
Head to the lighthouse lookout points and you'll be captivated by the stunning rugged coastline known as the 'Wild Atlantic Way'.
St. John's Point Lighthouse is inviting, comfortable and great for a quick visit or a few days stay. This place truly offers a unique experience while in Ireland, with stunning views that will leave you wanting to come back again.
Places to Stay in Ireland – Cottages and Camps
Bubble Domes at Finn Lough
Next on our list of places to stay in Ireland is one of the coolest accommodations, the Finn Lough Bubble Domes.
A snug little bubble dome in the woods to call your home for a day or two. Unlike anything you'll ever experience, it's like sleeping outside where you can watch the night stars from the comfort of your own dome.
From the moment you arrive at the bubble dome, it is like a magical experience. Once you have checked in you are taken by golf cart to your dome. You are given robes and slippers to roam about the surroundings.
Sit by the lake with a drink in hand, and enjoy the tranquil surroundings as all your worries disappear. Or head to your dome, chill out with a good book and freshly made coffee.
This is one of those magical places to stay in Ireland and we highly recommend doing it at least once in your life.
Cottages for Couples – Treehouse One at Grove House
Cottages for Couples offers seven incredible cottages and three luxury treehouses for a short break around Skibbereen. As the name says, it's perfect for couples to escape for some quality time.
Treehouse One at Grove House sits hidden away in the area in West Cork. It's another unique place to stay in Ireland. Treehouse One comes with its own private outdoor hot tub for guests to enjoy.
It's definitely no typical self-catering accommodation offering a remarking experience that's also eco-friendly. Inside the Treehouse you'll find a modern luxury classed with nature. The sleeping, living and dining area are all open-planned. You'll step out onto the decking where the hot tub is found and the pretty West Cork countryside.
There is something lovely about being high up in the trees, that makes you never want to leave.
Chez Shea Gypsy Wagon, County Kerry
Next on our list of places to stay in Ireland is the cute Chez Shea Gypsy Wagon.
This vintage accommodation offers retro living for a night or two in a 1970's restored caravan or Gypsy wagon. However, there is only enough space for two people so it's very intimate and sweet.
You'll even get a delicious homemade breakfast and evening meals delivered straight to your door. The place is also located on a family farm on the scenic Beara Peninsula.
You can enjoy interacting with the variety of animals around the place from cats, dogs, ponies, chickens and more. It's the perfect accommodation for the warm summer evening.
The Gypsy Wagon contains a variety of books to relish, along with some games and puzzles to keep guests entertained. It won't be everyone's cup of tea but the place definitely offers something different.
The wagon features a comfy double bed and facilities for making tea or coffee. And the table and chairs outside mean that you can bring a book and chill outside during the day.
Ring Fort Sleepover at the National Heritage Park
Looking to stay and experience life in Early Medieval Ireland? The Irish National Heritage is offering just that to those visiting Ireland.
At the National Heritage park guests can stay in an amazing replica of a 1,500-year-old ringfort. For a couple of nights, you can live like your Irish ancestors once did.
It's recommended for families/friends, sleeping up to 6-8 people who are looking to experience something different. Guest will stay in a big house in the ringfort. The house itself has stone walls, a thatched roof and comes with a central hearth. The house is one huge open space, the beds are on platforms along the sides.
When you arrive at the ringfort you'll be given costumes for the period helping you to fully play your part as an Irish ancestor.
If heritage & history is what you're searching for then is a great place to stay in Ireland.
Podumna Glamping Village, Galway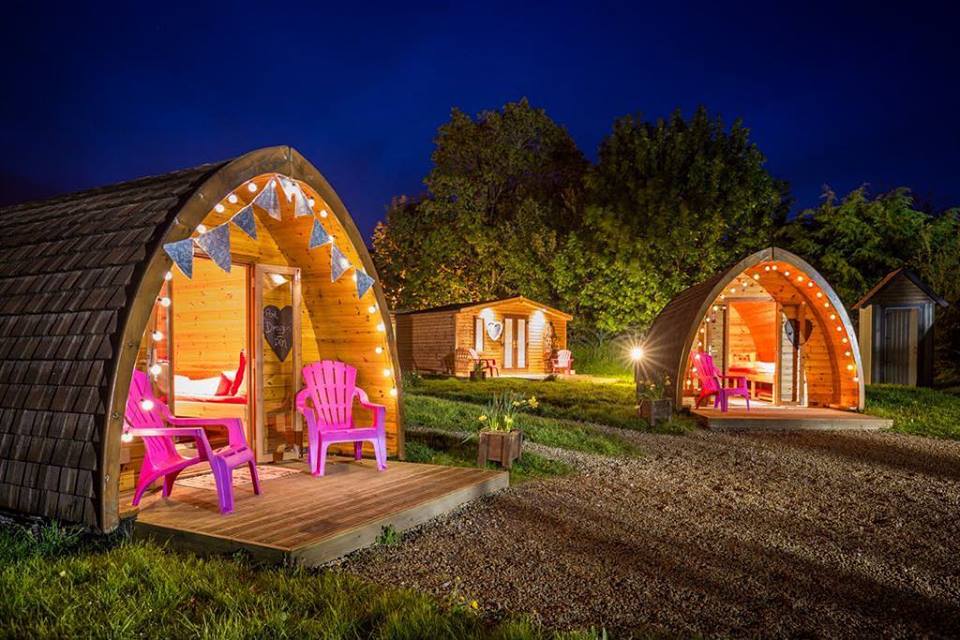 Next up is one of Ireland's best keep secrets, that any experience glamper or newbie will absolutely love.
Located in the heart of Portumna Town, Galway, Podumna glamping village is perfect for a girl's weekend break. You get the best of both worlds; fun and tranquil as you stay in a pretty woodland setting with the conveniences of a town nearby. The town has a great range of pubs, shops and restaurants for people to enjoy.
If you haven't done glamping before this will be a treat, and a great way to go camping if you're not a fan of sleeping in tents. You can choose between staying in Eco Pods, Shepherd Huts or B&B Rooms; all sleeping up to five people. You get the fun of camping without actually camping.
This is one of the cool ways to spend your time in Ireland with this incredible unique accommodation.
Top of the Rock Pod Páirc and Walking Centre
Another glamping site for you to choose from, Top of the Rock is an awarding-winning glamping site. The glamping site is an ideal place to stay in Ireland for touring West Cork. Offering cosy accommodation facilities and an activity centre set on a family farm. The place offers modern campervan facilities, glamping pods and camping spaces.
Top of the Rock Pod Pairc is located within the backdrop of Castledonovan Hills. If you enjoy walking you can check out the heritage trails along as well as the fun experiences of being on a working farm. Children will love interacting with friendly animals.
The centre is an amazing spot for capturing some beautiful scenery across West Cork. It was even listed in the "Irish Independent 50 best places to stay in 2018"
It's one of the best glamping spots in Ireland, a place where you'll make some amazing memories that will last a lifetime.
Yurts at Chléire Haven, County Cork
Chleire is another great glamping spot for families and couples. You'll be totally taken away from any interruptions as you enjoy spectacular views across the Atlantic Ocean.
Located on the edge of South Harbour on the remote Island of Cape Clear is Chleire Haven. The accommodation can hold up to six people, has facilities for cooking and is pretty comfortable.
There are lots of things to enjoy while you are here such as sea-kayaking, snorkelling, whale watching, fishing trips & more. Or take a trip to the nearby beach, and the local pubs & restaurants.
CroPod
Up next is another unique place to stay in Ireland – CroPod is a stunning Irish mountain pod located in the Donegal wilderness. It's highly recommended for those who love nature, offering a luxury getaway.
The unique accommodation has been topping Irish polls, voted No.1 in the Irish Times 'Top 50 Amazing Places to Stay in Ireland'.
If you're in search of a romantic getaway, then CroPod might just be the perfect accommodation you've been looking for. It's a newly constructed underground shelter, lined with oak and plenty of light. You'll be greeted will spectacular mountain views straight from your pod.
The amazing inspiration for the design comes from the ancient archaeology of Ireland.
Just under 15 minutes away from the place you'll find a variety of things to do from the folk museum, sandy beaches and some of the best traditional pubs in the country.
It's private, relaxing and makes you feel like you're in your own bubble away from the rest of the world. This place makes for an unforgettable stay. Be sure to add it to your list of places to stay in Ireland.
Places to Stay in Ireland – Popular Hotels
Europa Hotel in Belfast
Located in the heart of Belfast is one of its most famous hotels; the four-star Europa Hotel. The Europa Hotel oozes class and elegance providing a great place to stay for both pleasure & business.
Inside you'll find a contemporary style, a lively bar and a chilled piano bar lounge to suit a variety of guests visiting Northern Ireland's capital city.
The place has made a name for itself, international recognised for hosting top events and looking after a variety of celebrities. Including former US President Clinton and Hillary Clinton. But no matter who you are, the staff at the Europa hotel will be sure to give you the friendliest welcome and service while you're staying.
Europa Hotel is the ideal spot in Belfast with many tourist attractions within walking distance. These attractions include Belfast City Hall, Ulster Museum, Titanic Belfast & more.
Inis Meáin Restaurant & Suites, County Galway
Located on Aran Island is the isolated Inis Meain where over 160 people live including poets & fishermen. If peace & quiet is what you're after Inis Meain offers just that and more. People staying here will also be captivated by the incredible 360 views on display.
The masterminds behind the place are Marie -Therese & Ruairi de Blacam who wanted to create a place where visitors could appreciate the beautiful Irish landscape & nature. They were inspired by the island and its unique way of living.
The place offers a remote escape from daily life, a place to just enjoy the simple things in life. It's one of the best hotel experiences in Ireland where hospitably is top-notch.
Harvey's Point Hotel, Donegal
For five impressive years running Harveys Point Hotel has been voted as the No.1 Hotel in Ireland by TripAdvisor. It's a world-class hotel for those looking for luxury whilst also feeling at home, a place you can relax as soon as you arrive.
But this place is so much more than just somewhere to stay, it's a great place for an adventure or activity break in Ireland. Harvey's Point Hotel is located on the worldly shores of Lough Eske and close to the Blue Stack Mountains.
It makes for the perfect stopping point to explore the enchanting landscape of the North West of Ireland.
Cliff House Hotel, County Waterford
Next on our list of places to stay in Ireland is Cliff House Hotel, another 5-star accommodation to make a trip to Ireland unforgettable. As the hotel name suggests it's rested on a cliffside with stunning scenery.
Since the early 1900s, the hotel has called the site home but in 2014 it went through a modern refurbishment. The hotel links two other buildings and drops seven levels to the sea and all of its rooms share views of the sea.
You'll marvel at the stunning interior inside especially the spectacular staircases that glides down the cliffside. There's beauty inside and out, surrounding you at every corner.
This place makes for an ideal stop during your exploration of the Emerald Isle.
Fota Island Resort, County Cork
Nothing better than finishing a long week and heading for a weekend of luxury and relaxation time. That's exactly what Fota Island resort offers, where you can take full advantage of its amazing spa facilities.
It's one of the top hotels in Cork, boasting amazing views of the nearby woodlands and championing the Fota Island Champion Golf Course.
Guests can enjoy two world-class restaurants in the hotel offering the best of Irish and international dishes, produced using locally sourced ingredients.
It is a great place for a family break, 15 minutes from Cork city centre with golf, spa, gym facilities for the grown-ups, whole pools, and playgrounds to entertain the children.
The Merchant Hotel in Belfast
Next, on our list of the best places to stay in Ireland, is the five Red star Merchant Hotel located in the historic Cathedral Quarter in Belfast.
The Hotel offers an elegant stay with a blend of Victorian and Art decor inside. The place is sleek and modern, a perfect place for a city break in Belfast.
You can enjoy many great facilities from its spa, and a rooftop gym with 360 views of the city to its classy jazz bar and gorgeous dining rooms.
The Merchant hotel is also a short distance from Belfast attractions from Victoria Square shopping centre, to the world-renown Titanic Quater and lots more.
This is an award-winning hotel, consider Northern Ireland's Leading Hotel at the World Travel Awards in 2017.
If you looking for an unforgettable experience then The Merchant makes for a brilliant place to stay in Ireland.
Aghadoe Heights, County Kerry
County Kerry is one of our favourite places, an amazing place to visit and stay and that's why Aghadoe Heights is on our list. The hotel offers a beautiful setting, overlooking the lakes of Killarney.
Aghadoe Heights Hotel offers an escape from the modern world to somewhere enchanting. You're surrounded by five-star luxury and the staff makes you feel special from the moment you arrive until you leave.
"Our world combines the luxury of contemporary comfort with the warmth of Irish hospitality."
The hotel features include an indoor heated pool, outdoor tennis courts for fine and casual dining as well as gym and spa facilities.
Aghodoe Hotel Spa won the 'Best in Service Award' at the Irish Tatler Spa Awards 2018 along with many more awards. The homely feel is was draws people in, along with the welcoming nature of the staff and its ideal location.
Garryvoe Hotel, County Cork
There's something magic about Garryvoe Hotel, they have been welcoming guests since the early 1900s and few things seem to have changed. You'll always find smiling faces at Garryvoe Hotel – an independent four-star, family-run hotel.
You're needs and enjoyment are the most important in the minds of staff to make sure you stay in nothing short of special.
Whatever reason takes you to Garryvoe hotel; a wedding, romantic break or a seaside holiday, you'll always be provided with friendly and professional service.
The food served at Garryvoe Hotel offers some of the best local food in County Cork and to top it all off you'll be greeted with the most spectacular views.
Garryvoe Hotel is one of our personal favourite places to stay in Ireland and we think you'll truly love this place.
Kelly's Resort Hotel & Spa, County Wexford
Head to County Wexford for one of Ireland's top 4- star resort hotels; Kelly Resort Hotel and Spa.
Beautifully situated near Rosslare's sandy beach, the hotel has been family-run for over five generations providing guests with a perfect seaside holiday in Ireland.
They provide so much for you to enjoy your stay from the friendly staff, and beachside view, to the delicious food, activities for children as well as comfortable rooms and evening entertainment.
If you're searching for a relaxing atmosphere and a warm Irish welcome then you can go no wrong with this place.
Places to Stay in Ireland – Country Houses
Rathmullan House, County Donegal
The once private Georgian Manor has been turned into a family Run accommodation where guests can enjoy the seven acres of parkland. As well as overlooking Lough Swilly and close to Ireland's Wild Atlantic Way coastline.
Rathmullan House is filled with charm and for the last 50 years, the place has tried to offer something original to visitors. Their location may be idyllic but it's their warm welcoming that sets them apart from others.
Although time has moved on the house still displays many of its original Georgian decor and design throughout. The bedrooms, however, have been given a modern upgrade to suit all guests.
The Wild Honey Inn, County Clare
Lastly but certainly not least on our list of the most unique places to stay in Ireland is the Wild Honey Inn. This is another place located against the backdrop of Ireland's Wild Atlantic Way.
The Wild Honey Inn has tried to re-invent the idea of an Irish pub; combining refined bistro cooking with the ambience and warmth of a traditional country inn.
The place is Ireland's first One Start Michelin Pub and is slowly becoming known as one of the best gastropubs in the country.
The Wild Honey Inn offers 'country comfort' that makes for a great getaway in Ireland. This is all down to owner Chef Aidan McGrath and his partner Kate Sweeney. The amazing food aspect is the work of Aidan and Kate works on making sure every guest feels right at home.
Hope you enjoyed this list of all the great places to stay in Ireland, have you got your own favourite place to stay in Ireland? Share with us below 🙂
Check out some other blogs that might interest you:
Live Music in Belfast: A Local's Guide to Entertainment| Best Tourist Attractions in Northern Ireland| Art Galleries in Belfast: A Local's Guide to Must-See Attractions|